This was a great game day. In many ways a high water mark for the club. It's bittersweet of course because the first time we played this game it was to wish our friend Lily a happy sendoff to London, where she remains. We miss you Lily.
Here's an annotated list of the ingredients that made this event a success.
The destination. The Last Bookstore is where we played this game before, and it's incredible. What a great public space. So many nooks and crannies to do deals in and escape detection. This place is a treasure. Cheers to the team that keeps it great.
The turnout. I am so pleased looking at the photo above. There are Play Folk founding fathers like Dash, Maclen and Dice. Game luminary Jeff Watson's first Play Folk: he was in Canada when we began. Some first-timers and some players whose names I don't know, which is great because it means our club can grow, but bad because I had their names at one time and don't remember them now. Oh well it's my own fault for delaying so long writing the post, but also my own fault for allowing myself to grow older and more forgetful. (Edit: One of them is YuTing. Thanks Willa.) My friend Matt from my days at UCLA is there, and Chris B. also from UCLA whose contributions to the day were heroic, but more on that later. Also not pictured: Greg S., Wise Guys Events co-founder.
The cupcakes. I had some gift cards from Magnolia burning a hole in my pocket and, although I have a sweet tooth, Magnolia's cupcakes aren't only not the best in LA, they're not even the best on Third St. But when you can show up with a box of them to a great gathering of the people pictured above, it's just what the doctor ordered.
Willa's game. Willa designed an extra puzzle for us to use in last year's game, and we sat on it for a year and then we used it. It was a great intro puzzle for everyone to learn about the game and the bookstore, and the solution was quite delightful as I look back on it. Reading the numbered clues, even when you have all of them it doesn't seem like enough to come up with the answer, which references Caldecott Medals (that was my favorite part), but in fact you do have everything you need. And it seems a big group of players came up with the answer at about the same time, which is a really cool outcome. I don't remember who won. Who was it?
Chris's puzzle. Last year's game had a puzzle by me as the warm up and Chris's game was the main event. That was true this year as well. In a very short amount of time, with a tremendous burst of energy, Chris cooked up an immensely clever, site-specific game that was a treat to solve. Greg Snyder and Jeff Watson are the winners, which is a credit to their great brains. I used a lot of misdirection and withholding information, and I think I might have won if I hadn't gone to feed my meter partway through. That's a lie, I wasn't even close.
Here, in detail, is the content of Chris's game: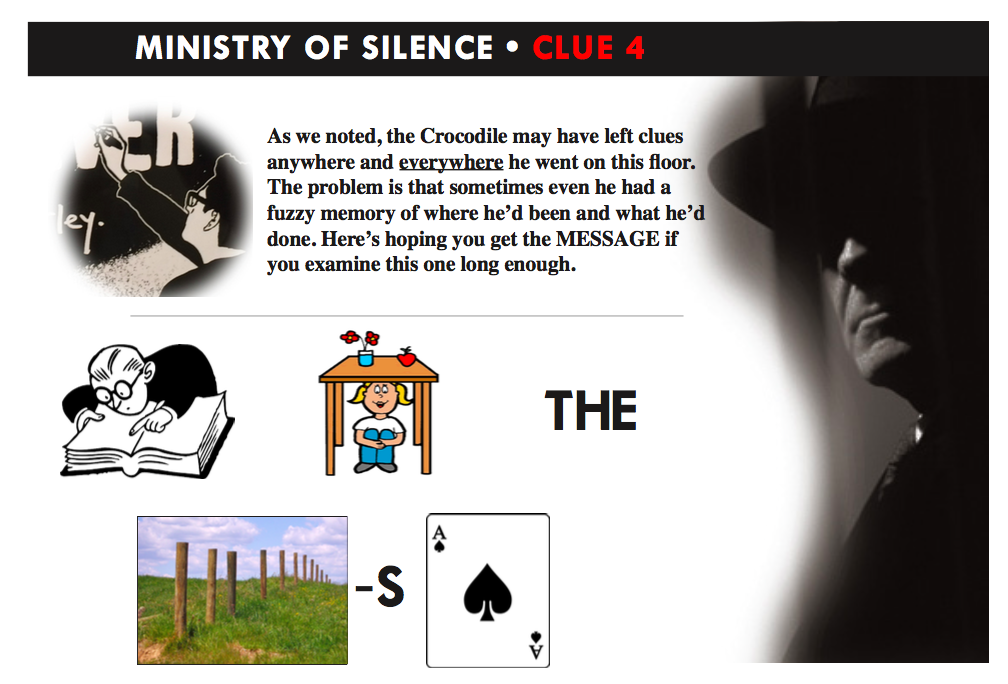 We played the second game entirely upstairs in the labyrinth. It got pretty hot up in there, but you couldn't ask for a more exciting, dynamic place to play.
Thanks to Chris and Willa, our game designers, and to all our great players, old and new, who came to play a new spin on an old favorite. Perhaps it will be an annual tradition, although I think next year we will play in the main branch of the public library, or perhaps at Book Soup.
What do you remember about this game? If you had played, what would you have done?